$3.49
$0.00
Good Day Turmeric Chocolate
Introducing Good Day Chocolate! We are supplement geeks with a chocolate obsession. Whether you're tired, anxious, restless or just plain craving chocolate – we're here for you. Each product does exactly what it says and is packed with premium supplements made with delicious Fair-Trade dark or milk chocolate. Now that's mood food!
After years of research, we chose chocolate because it's a real, whole food with natural health benefits that our bodies metabolize effectively. Chocolate contains proven health benefits like flavanoids and xanthines – compounds that are anti-oxidant as well as anti-inflammatory. Besides tasting delicious, research shows that chocolate is one of the most effective delivery formats for vitamins and supplements.
Turmeric is an ancient superfood known for easing inflammation and boosting brain function. Wrap that in chocolate and it's a no brainer! 800mg of turmeric in every box.
Non-GMO Ingredients. Fair-Trade Dark Chocolate. Coloring from Fruits & Veggies. Doctor-Founded.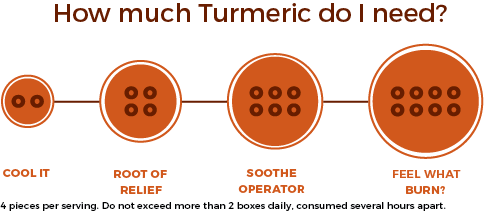 Ingredients: Dark Chocolate (Fair Trade Unsweetened Chocolate, Fair Trade Sugar, Fair Trade Cocoa Butter, Soy Lecithin [An Emulsifier], Fair Trade Natural Vanilla Extract), Sugar, Turmeric Root Extract (Curcuma longa), Cocoa Butter, Gum Arabic, Coloring (Turmeric Oleoresin), Carnauba Wax.
Contains Soy. May also contain Milk, Peanut, Tree Nuts, Wheat