$3.49
$0.00
Good Day Energy Chocolate (with Caffeine)
Introducing Good Day Chocolate! We are supplement geeks with a chocolate obsession. Whether you're tired, anxious, restless or just plain craving chocolate – we're here for you. Each product does exactly what it says and is packed with premium supplements made with delicious Fair-Trade dark or milk chocolate. Now that's mood food!
After years of research, we chose chocolate because it's a real, whole food with natural health benefits that our bodies metabolize effectively. Chocolate contains proven health benefits like flavanoids and xanthines – compounds that are anti-oxidant as well as anti-inflammatory. Besides tasting delicious, research shows that chocolate is one of the most effective delivery formats for vitamins and supplements.
A smooth and lasting boost that's easy to control and delicious to eat. 20mg of caffeine, green tea and B vitamins in each piece. One box = 2 cups of coffee!
Non-GMO Ingredients. Fair-Trade Dark Chocolate. Coloring from Fruits & Veggies. Doctor-Founded.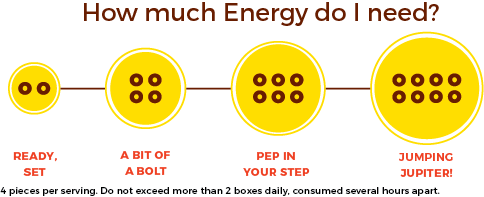 Ingredients: Dark Chocolate (Fair Trade Unsweetened Chocolate, Fair Trade Sugar, Fair Trade Cocoa Butter, Soy Lecithin [An Emulsifier], Fair Trade Natural Vanilla Extract), Sugar, Cocoa Butter, Gum Arabic, Coloring (Beta Carotene), Carnauba Wax.
Contains Soy. May also contain Milk, Peanut, Tree Nuts, Wheat